Smells delicious and fabulous texture GF!!
April 22, 2019
Verified Purchase
My daughter and I are gluten free and so excited to find this!! Smells amazing and texture is awesome. Ty!!
crozier1125
As a mom with Celiac disease, I didn't want to be constantly worrying about cross contamination every time we got out the play dough. This stuff is GREAT! Smells awesome, plays smooth, but the best part is that it has been our only play dough for the entire year (with two toddler boys) and is just now starting to get firm enough that I am thinking of re-purchasing. Some of the colors have aromas that have lasted better than others, but almost all of them still have a great smells – which is just a perk. Totally worth it in my book.
Akmjohnson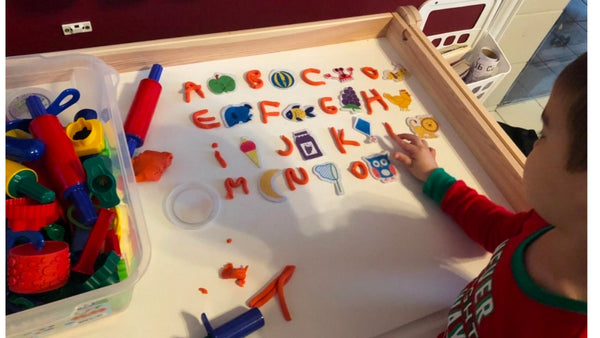 Product and customer service BEYOND my expectations!!
No words for how grateful I am to finally have a safe play dough for my special needs son! He is completely nonverbal but here he is making noise and loving the chance to play with a new texture AND such a bonus, scents!! I was worried about the consistency but it is spot on and just like the real thing! The scents are not overpowering and I find myself gravitating to it! We also love the non-scent and even colorless as he is just so excited to have a new sensory experience. Your customer service is BEYOND that will make us a customer for life. Thank you for putting so much care, thought and love into your products!
Angela M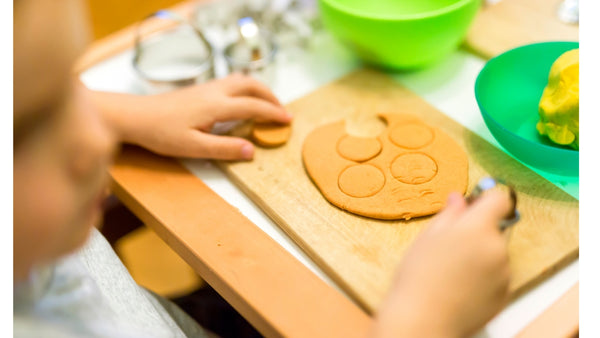 "It's an eco-friendly alternative to what you find in the store and perfect for people with chemical sensitivities. The colors are intense, rich and fiery with an incredible range of products. You can order the party pack for a special event, or give your child a new toy for school. Playtime never felt so fun!"

These are my student's favorite activity! Aroma Dough came quickly and in cute packaging. I liked the ribbon that was on the Easter set. Over Christmas, I saw they had limited-edition aromas and that is what made me want the Easter set and I'm glad as they sold out. They smelled like marshmallows. Unlike scented markers, the smell was not overwhelming and it didn't transfer to other things that touched it. Fun colors and a big hit at the party! As a teacher, I will get this again!!
Amazon Customer
Great for kids with celiac disease
March 30, 2019
Verified PurchaseEarly Reviewer Rewards(What's this?)
Our four year old was just diagnosed with celiac disease and we were worried about her putting her hands in her mouth or touching her food after playing with regular play dough so we bought this. She's been playing with this gluten free dough instead, and she loves it! The scents smell great too!
Amazon Customer
It is a wonderful dough that I don't have to worry about my allergy prone little guy playing with or tasting – especially since it is made with all food safe materials. He loves the colors and the smells he plays with it for hours.
Stacey M
I just wanted to thank you for your amazing product! My little guy was diagnosed with Celiac Disease at 3 years old, so he was super sad when he couldn't play with play doh anymore….I'm so glad we found Aroma Dough!!!! We've been playing with Aroma Dough for over a year now and have a set at our house and at my parent's house for when he goes to play there. Thanks again!!!! SS Sinzlw
Ashley S
Perfect for my GF child!
December 1, 2018
Verified PurchaseEarly Reviewer Rewards (What's this?)
Love this dough! My daughter hasn't put it down since she received it. Can do everything regular play dough can do. But even better it smells so good! My daughter left a corner of a lid open once and just a tiny bit in the top hardened. We were able to remove the hard piece and the rest was fine. My child has a gluten allergy and still sucks her finger so she would get sick after using gluten dough. She has no problems with this. Thank you! One person found this helpful
Slsm33
Fanatic Dough
December 28, 2018
Verified PurchaseEarly Reviewer Rewards(What's this?)
LOVE this dough so far! I bought it for my daughter to use at bedtime — squeezing it while I read bedtime books calms her and helps her get sleepy. We are both sensitive to smells (allergic reactions to anything floral) but these are wonderful scents without being overwhelming. Also really appreciate the cruelty-free creation of the dough. Here's to hoping for many months of happy kneading!
LMD
Available in scent free too!
January 5, 2019
Verified PurchaseEarly Reviewer Rewards (What's this?)
This is a great product. When I purchased the wrong set by mistake/lapse of thought (they make a scent free set!), the seller was quick to help and save Christmas. I purchased this for my toddler since I am gluten free and having regular play doh that I thought I could contain, was not actually getting contained and making me sick. I tried to make my own many times and came up with a sticky mess, this product is not sticky.
Danielle
Wonderful Product
December 7, 2018
Verified Purchase
Came before the promised date. Smells amazing!! My daughter has Celiac disease, so she can't use the Conventional Play Doh. She had to have this for school. And loves it that she can now participate in the stations like the other kids in her class. Thank you Aroma Dough!!!
Amazon Customer
Wonderful!
February 6, 2019
Verified Purchase
My kids love this stuff. It's so much nicer than pla doh. It all smells great. It's soft and moldable and has lasted for months now.
Amber
January 14, 2019
Verified Purchase
My kid has celiac disease and this was a great play dough. The smells are neat. You do get a coupon with the box
Panicdanic